Coaches
By registering with AGM Sports you will be able to: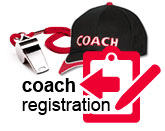 Have access to dozens of E-Profiles from international student-athletes from all around the world.
View their personal, academic and athletic information, including their high-school transcripts, their SAT and TOEFL test-scores, and videos of them practicing and competing.
Update your information so that student-athletes from all over the world can see correct information about your university and your program.
Upload videos of your facilities and your team, so that international student-athletes can really see how life is in your team!.
Not registered yet?